---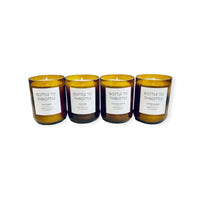 BACK BY POPULAR DEMAND! This "Bottle to Throttle" candle pack includes four summer cocktail scented candles and comes in either 8oz or 4oz sizes! The 8oz candles are made with recycled Coors beer bottles; the 4oz candles come in travel tins with lids.
Scents you'll receive:
🧉 Coconut Colada
🍹 Margarita
🍷 Summer Sangria
🌿 Mint Mojito
Limited quantities available! 
100% Soy wax, non-toxic, clean burning, environmentally friendly, biodegradable, plant-derived, longer burn times.
Please be safe! Always be sure to read the warning label located on the bottom of your candles. Trim wick to 1/4" prior to each use, never leave lit candle or hot wax unattended or within reach of children.