---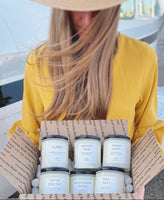 This set contains six of our most popular 8oz fall candles!

Scents included:
• Top of Descent — Toasted Pumpkin Spice
• FLARE! — Fire Roasted Marshmallow
• Airspeed Alive — Apple Cider Donut
• Backcountry Flying— Fallen Leaves
• Winds Aloft — Autumn Flannel
• Full Rich — Dulce de Leche


Perfect to burn while carving your aviation themed pumpkin, studying for your next written, or with friends at your next get together!

An approximate burn time of 40+ hours is estimated for each candle (that's over 240 candle enjoying hours!).